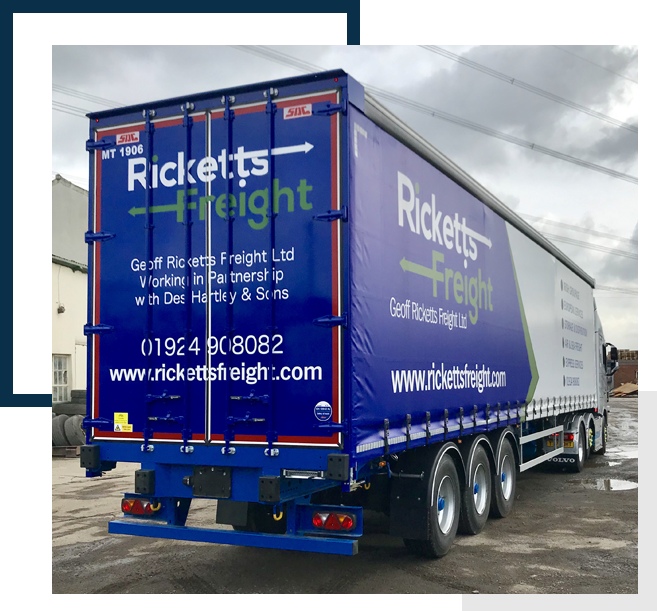 DAILY SERVICES TO IRELAND
Our trailer services to Ireland have been operational for 25 years and provide all of our customers with easy access to the most reliable and economical groupage service available, delivering daily throughout both Northern and Southern Ireland.
There are several Ricketts Freight trailers departing every day and we are able to carry all types of cargoes and packaging. Most of our competitors really only want to handle palletised cargo for a 'uniformly distributed load'. We provide quotes for what you need from 1 carton, 1 pallet, 1 tube or full loads, however the goods are packaged, we carry it and deliver it. This is one of the many reasons why our customers have been with us for so many years.
At the beginning of 2021 the new BREXIT rules were put in place and we have been working relentlessly to ensure all shipments go as well as they possibly can. Whilst many of our competitors suspended their services and others rushed in headlong ONLY to find extreme difficulties in getting their trailers across the water due to problems with paperwork and procedure, we slowed things down a little to ensure the correct paperwork was in order before we sent out our customers cargo. This policy proved highly successful and has enabled us to continue on forward with the supply chain.
Big thanks to our team and their determination and expertise to ensure our customers faced the very minimum disruption and trouble free services. Many of the new customers came to us because they were not receiving any help from their original suppliers with whom they had worked with for many years.
Rest assured, if you need help with your shipments, our Team are here to help you.
Making the Difference
Our business is geared on providing the best possible cost-effective services. Value for money is essential and is at the very centre of everything we do. Our organisational structure is designed to ensure that all the services we provide are undertaken in a professional and cost-effective manner, we care about what we do and that makes the difference.
" I must have been dealing with Geoff Ricketts freight right from the start, 25 years plus!
Ricketts Freight provide an excellent service with the most competitive prices never had any problems and we have always worked well together.
Other

Services

Please take at look at the services we are able to provide