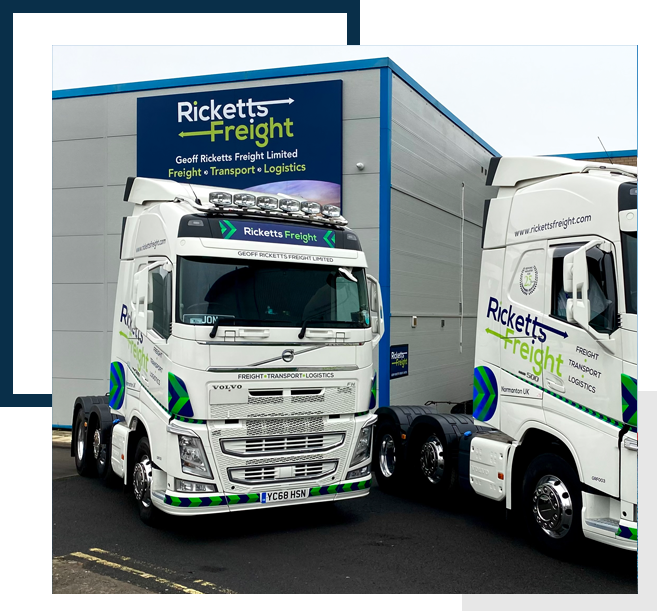 About
Ricketts Freight
Established in 1996, Geoff Ricketts Freight Limited, having started in a small corner of a warehouse in Ravensthorpe, celebrate our 25 years of service by moving to our modern home just off the M62 at Foxbridge Way on Normanton Industrial Estate.
We are immensely proud of this facility, it's ideally located with great motorway access and gives us space to expand further, almost 15,000sqft warehouse with offices. A very modern facility which will become a very busy place.
Our

Services

Please take at look at the services we are able to provide
Request A
Quote!
Requesting a quote, making an enquiry or requesting a call back is easy, please complete the boxes with the relevant information and press the 'Request a Quote' button and we'll get back to you as soon as we can.
"Rickett's Freight are a pleasure to deal with, always going the extra mile and provide super-efficient service. They have helped us out of many last-minute problems! 5-star, would recommend!"
" They were able to accommodate challenging business growth requests at short notice to allow our business to expand, whilst ensuring that we could maintain supply to our key customer base in EMEA, North/South America and Asia.
'Working with Ricketts over the last 3 years has been a pleasure. They demonstrate a professional and agile service as a business partner overlooking warehousing, stock management and international freight movements.'
" I must have been dealing with Geoff Ricketts freight right from the start, 25 years plus! Ricketts Freight provide an excellent service with the most competitive prices never had any problems and we have always worked well together.